At Calvary Baptist Church we love Evangelism, and believe that all Christians should obey the Lord's commands about it as given in the following Scriptures:
"And Jesus came and spake unto them, saying, All power is given unto me in heaven and in earth. Go ye therefore, and teach all nations, baptizing them in the name of the Father, and of the Son, and of the Holy Ghost: Teaching them to observe all things whatsoever I have commanded you: and, lo, I am with you alway, even unto the end of the world. Amen." Matthew 28:18-20
"And he said unto them, Go ye into all the world, and preach the gospel to every creature." Mark 16:15
"Then opened he their understanding, that they might understand the scriptures, And said unto them, Thus it is written, and thus it behooved Christ to suffer, and to rise from the dead the third day: And that repentance and remission of sins should be preached in his name among all nations, beginning at Jerusalem." Luke 24:45-47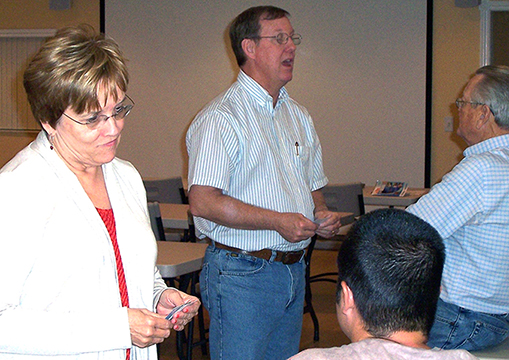 We believe that training believers is essential so that they can be obedient and go and share our Lord with a lost and dying world. We use a familiar course produced by
Living Waters called The Way of the Master as the primary training tool.This course is comprised of eight weekly 1.5 hour sessions during which students are exposed to witnessing, through videos and role playing, using the same tool that Jesus used. During this course you will learn to overcome the fear we all seem to have when it comes to telling lost loved ones, co-workers and even total strangers what Christ did for them and why they need the Savior.
We invite you to join us for the next class! Whether you are a church member here, or somewhere else, or even a visitor with no church affiliation, you are welcome to attend this course at no cost to you. Start dates will be posted in the church's online event calendar, so check back often.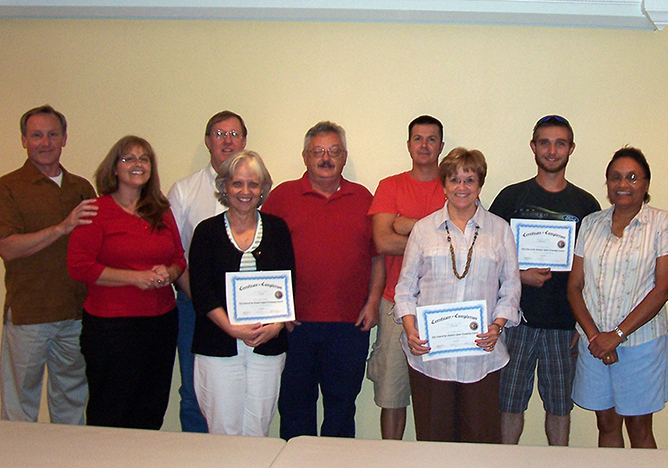 For those already comfortable sharing their faith, we have the following on-going outreach ministries we invite you to become a part of:
We meet at a local assisted living facility in Rockledge every Wednesday (except the 2nd week of each month) from 9:30 to 11 a.m. We lead residents in singing and a Bible study. God is working in the lives of the residents, as well as the staff, and we hope to see Him save souls soon.
On Tuesdays and Thursdays, our team meets at the Varr Street bus stop in Cocoa from 10 a.m. to 2 p.m. This is an incredible ministry because of the number of people you can share Jesus with while they are waiting for then next bus. This outreach is always a very rewarding challenge.
Please check the online church event calendar for additional outreach times and locations.
For more information on our evangelism classes and outreach opportunities, please click here to contact us and someone will be in touch. Be sure to check out these valuable online evangelism resources: